Elasto-Gel Hot/Cold Knee Wrap with Patella Hole. Made utilizing a tough, flexible, high-glycerin gel that is covered with a four-way stretch material that allows maximum conformity, hot and cold transfer, and comfort. Remains flexible, even at a -20 F. Microwaveable. Will not leak if punctured. Will not dry out. Durable, comfortable and easy to use. Latex-free. Knee Wrap with Patella Hole.
Small / Medium - 8" x 15", fits 12" to 15" circumference
Another Great Hot/Cold Knee Therapy Option - Soft Ice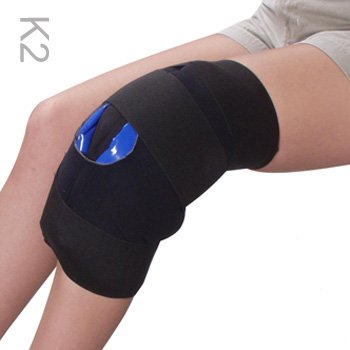 Manufacturer's Warranty Applies
Just enough to do short ice therapy..

Doesn't get very cold or stay cold very long. I do like the feel and how it wraps around the knee.

I keep it in the freezer at all times. It's sorta cold at first but doesn't stay cold once I put it on. The durability is great though. Haven't even tried the head yet.